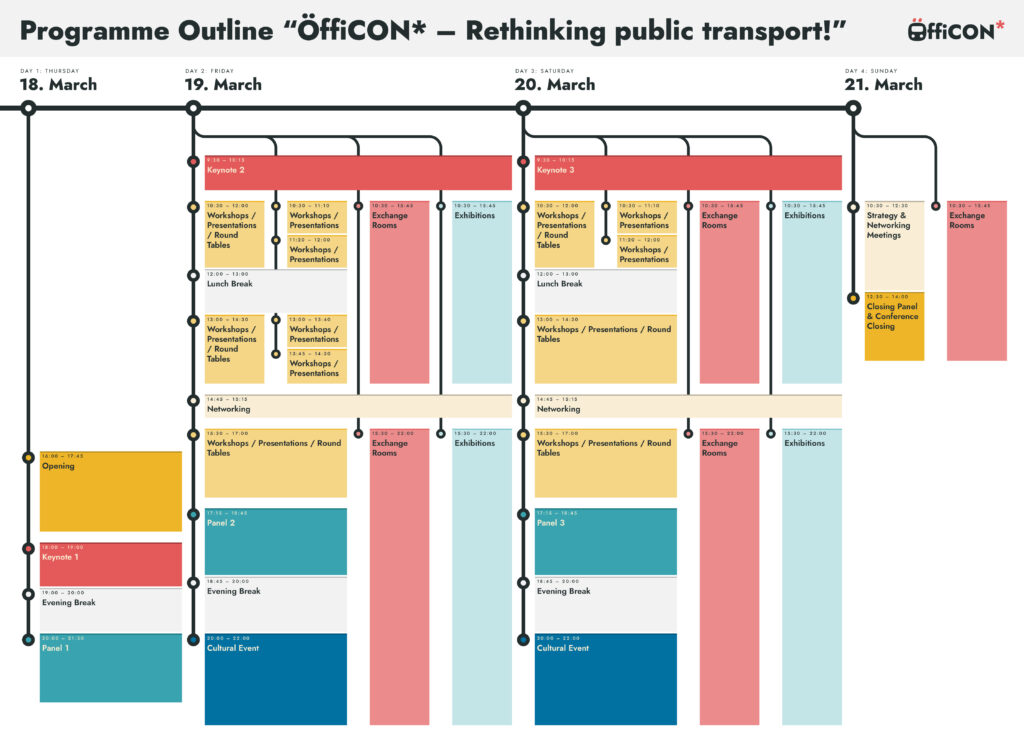 Various program – different formats
A number of different formats await you at öffiCON*, guaranteeing a diverse and varied program. We present here already the different formats:
ÖffiCON* will offer virtual exhibition spaces where initiatives, associations and institutions can show thematically appropriate exhibitions and get in touch with visitors.
We would like to try out whether the format of the excursion can be transferred to virtual space. Do you have an idea how to implement this? Always come up with your ideas. Pre-recorded excursions are possible and welcome.
We open the ÖffiCON* with greetings that introduce the event.
Keynotes bilden eine thematische Einführung in die zentralen Inhalte der ÖffiCON*.
AIn the evenings, there will be a cultural event to match the ÖffiCON*: Whether it will be a public transport slam, a concert or a play will be decided soon. All conference participants are invited!
Time for exchange and getting to know each other – the heart of every conference!
Each day there will be up to three central, moderated panels on the central topics of ÖffiCON* with 4 to 5 panellists.
We make rooms available for specific target groups. These are places for networking where a get together or an event can take place. These spaces are designed by the organisers themselves.
Roundtables are composed of three to five short presentations followed by a discussion session.
There will be short (45 min) and long (90 min) lectures. There will also be room for questions and a subsequent discussion during the presentation time.
Workshops are formats in which the number of participants is limited. Workshops are based on interaction between the participants; a topic or question is to be worked on together and methodically.